The way Boris Johnson made decisions during the Covid pandemic was "unique" and he had a "distinct" style, Sir Chris Whitty has told the public inquiry.
England's chief medical officer refused to be drawn into personal criticisms of the former prime minister but acknowledged the Government was "chaotic" as the pandemic unfolded.
Sir Chris also defended not raising the alarm across Government in mid-January 2020 about coronavirus, despite his deputy, Sir Jonathan Van-Tam, warning that a pandemic was imminent.
In extracts from his witness statement read to the inquiry, Sir Jonathan said he became "seriously concerned" about Covid on January 16 2020.
The former deputy chief medical officer said it was clear this was a novel coronavirus, it was "fairly clear that human-to-human transmission was occurring" and "my view was that this would be a significant pandemic".
Hugo Keith KC, lead counsel to the inquiry, said Sir Jonathan raised his concerns with Sir Chris but Sir Chris's "response was to wait and monitor developments".
Sir Chris told the inquiry: "So, Jonathan, and I think he would agree with this, is quite instinctive in some of these decisions – very often, rightly.
"He is a very able epidemiologist and thinker in this area, but if I had said to him, 'OK, what is the evidence on which this is going to be a pandemic…?' he would have said, 'It just feels like that to me'.
"That's quite a narrow basis on which to make quite big decisions."
Sir Chris later added: "I don't see evidence that this is the system not working as it should at this point because it is not clear to me an alternative path would have led to a better outcome on January 16."
He added that "if you consistently go to all of Government and say, 'I have no data on this, and I'm a bit worried, but my gut feeling is this is going bad', you don't get very much traction…"
He said waiting a few days for more data was the right approach, though he later agreed with Mr Keith that by January 22 he knew Covid was a dangerous and transmissible virus.
In other evidence, Sir Chris was asked if Mr Johnson "had a difficulty in reaching clear, consistent positions".
Sir Chris replied: "I think that the way that Mr Johnson took decisions was unique to him."
He added: "He has quite a distinct style but I think lots of other people have got quite distinct styles."
Sir Chris said he felt his role was not to "make commentaries on individual politicians".
When asked about the efficiency of the administrative system around the prime minister, Sir Chris said: "I thought that the civil servants, particularly the health and economic private secretaries did a very, very good job in difficult circumstances.
"I think that the political system around the prime minister was more mixed.
"But I don't think that was really as much to the fore in this set of decisions as it was in some other areas.
"It was quite often chaotic, but actually, I'd be very doubtful if it wasn't chaotic in multiple other governments."
He did offer insight into when Mr Johnson performed best, suggesting it was in small groups.
Sir Chris said: "A lot of the way by which senior ministers, including the prime minister, came to their position was done informally in conversation.
"And, for example, one of the times where we had the most conversation with the prime minister in a small group – where he tended to be at his most focused – was in the briefing just before we did press conferences."
Earlier, Sir Chris said action should have been taken earlier against the spread of Covid but denied warning ministers against lockdowns.
In sometimes tense exchanges with Mr Keith, the leading expert said he set out the downsides of locking down but argued that was not the same as saying it should not happen.
Sir Chris was put under intense scrutiny following revelations from former chief scientific adviser Sir Patrick Vallance on Monday that he and Sir Chris did not always see eye to eye on the speed at which action was needed.
Sir Chris said he was "very aware" of two things that needed to be balanced – "the risk of going early (into lockdown or other similar measures) and the risk of going too late".
He added: "My view is, with the benefit of hindsight, we went a bit too late on the first wave."
Sir Chris said there was inevitable variation between what people thought when balancing all the issues, which included how restrictions might impact loneliness, deprivation or non-Covid deaths.
He added: "And I was probably further towards 'let's think through the disadvantages here before we act' and also in making sure that in giving my advice that ministers were aware of both sides of the equation."
Sir Chris said differences between him and Sir Patrick were "extremely small".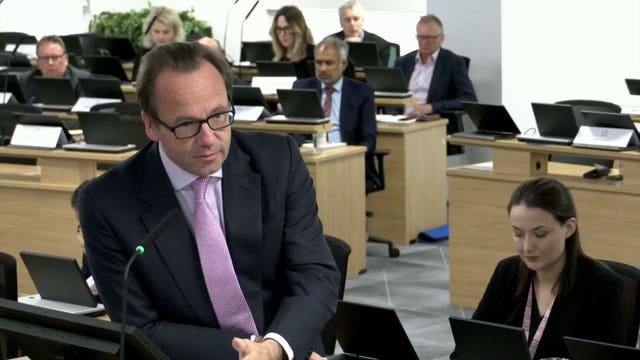 Asked about claims in Sir Jeremy Farrar's book about "friction or tension" between the top advisers in the early days of the pandemic, Sir Chris replied: "Well, Sir Jeremy, who is a good friend and colleague, had a book to sell and that made it more exciting, I'm told.
"My own view was that actually the differences were extremely small."
Sir Chris also told the inquiry:
– There was a "bit of a row" when former No 10 senior adviser Dominic Cummings attended some Sage meetings. But Sir Chris defended the move, saying: "I thought it was perfectly sensible that if one of the most senior advisers to the prime minister, if she or he wished to, could listen in on Sage, (it) struck me as a sensible thing to do…" However, he said it would be "extremely unacceptable" if that person tried to bias the answers given by Sage
– Modelling at the start of the pandemic was intended to test a number of scenarios, not to provide predictions
– The pandemic mantra of "following the science" was a "millstone" around scientists' necks "and didn't help Government either"
– Public Health England struggled to scale up testing when it was needed
– Sir Chris and Sir Patrick were "very careful to be clear and blunt about the public health implications of decisions taken or not taken" but did not tell ministers "therefore you must" or "I think you must"
– There were "no good options" for dealing with Covid. "All the options were very bad, some are a bit worse, and some were very, very bad"